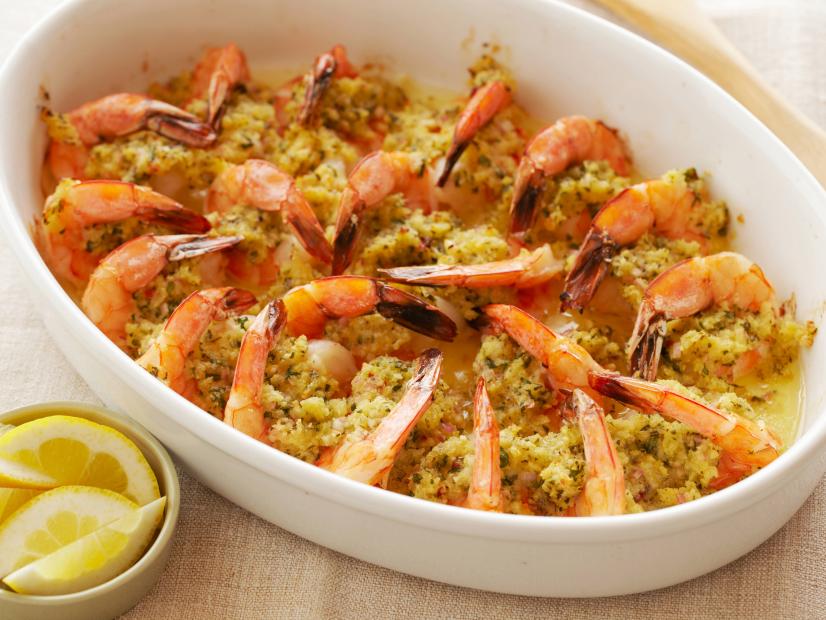 Substances
2 lbs (twelve to 15 per pound) shrimp in the shell
3 tablespoons excellent olive oil
2 tablespoons dry white wine
Kosher salt and freshly ground black pepper
twelve tablespoons (one 1/2 sticks) unsalted butter, at space temperature
four teaspoons minced garlic (4 cloves)
1/four cup minced shallots
three tablespoons minced fresh parsley leaves
1 teaspoon minced fresh rosemary leaves
1/four teaspoon crushed red pepper flakes
1 teaspoon grated lemon zest
two tablespoons freshly squeezed lemon juice
one added-massive egg yolk
2/3 cup panko (Japanese dried bread flakes)
Lemon wedges, for serving
Directions


Preheat the oven to 425 degrees F.


Peel, devein, and butterfly the shrimp, leaving the tails on. Area the shrimp in a mixing bowl and toss gently with the olive oil, wine, 2 teaspoons salt, and one teaspoon pepper. Permit to sit at area temperature while you make the butter and garlic mixture.


In a tiny bowl, mash the softened butter with the garlic, shallots, parsley, rosemary, red pepper flakes, lemon zest, lemon juice, egg yolk, panko, 1/two teaspoon salt, and one/4 teaspoon of pepper till mixed.


Starting from the outer edge of a 14-inch oval gratin dish, organize the shrimp in a single layer reduce side down with the tails curling up and in direction of the center of the dish. Pour the remaining marinade above the shrimp. Spread the butter mixture evenly more than the shrimp. Bake for 10 to 12 minutes till sizzling and bubbly. If you like the prime browned, location below a broiler for 1 minute. Serve with lemon wedges.


2008, Barefoot Contessa Back to Basics, All Rights Reserved
My Private Notes
Almost everything Italian
Seeking for Some thing Else?
What is Cooking
Let's Get Cooking!
Indicator up for the Recipe of the Day newsletter to get editor-picked recipes, guidelines and videos delivered to your inbox daily. Privacy Policy